Looking over the Best Bet Design inventory, I realized we have a lot of blues in our Shop. Blue is my favorite color. Blue is the color of the sky and sea. It is often associated with depth and stability. It symbolizes trust, loyalty, wisdom, confidence, intelligence, faith, truth, and heaven. Blue is considered beneficial to the mind and body. Here is a collection of our blues:
This pillow cover is a light denim blue, in a popular ikat print.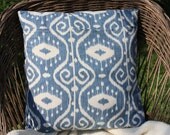 Just love the aqua color on this tropical fish pillow cover!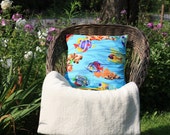 Let's not forget teal!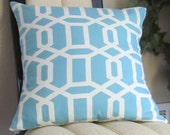 And here's a look at other blues we have. How many different shades can you spot?
All in all, I don't think having the blues is so bad after all!
I publish 3 new blog posts each week! Check out the schedule. You can also click on the link below for blog updates.