Only 12 more days til Halloween! Wow, time does fly. Best Bet Design has some really cute Halloween runners, but now it's time to concentrate on Thanksgiving and yes, Christmas!
Here's a sampling of our runners which would look nice on your Thanksgiving table (up to and including dinner time)!
This one is a great example of an Americana print, with it's patchwork look. The other side is full of mums, which will be great any time this fall!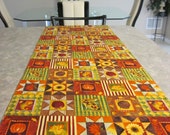 I love the rich depth of colors on this autumn leaves runner. The colorful fall leaves have a shimmery effect against the black background.
This runner has a whimsical look, with squirrels and acorns! The other side has gold-lined leaves against a shimmery red background.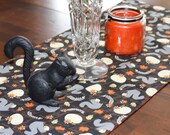 All we've got for Christmas right now is this elegant little reversible keyhole print in red & silver. Simple, yet classy!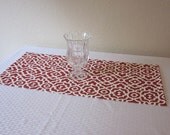 We just sold this pretty little runner last week!
Time for me to get to the fabric store and stock up on more Christmas fabric! It's going to be fun!!
I publish 3 new blog posts each week! Check out the schedule. You can also click on the link below for blog updates.